KLT Wire Controlled Chassis (S1000) Product Description
KLT Wire Controlled Chassis (S1000) Mobile Robot Platform
Mobile Robot Chassis
Mobile Robot platform
Robot ATV
Programmable UGV
ROS Robot
Support ROS / Unmanned
Model: KLT-S1000
Product parameter configuration
Dimensions: 1010 x 803.7 x 439.2mm
Wheelbase: 690mm
Tread: 665mm
Net weight (including battery): about 60KG
Maximum load:60KG
Power battery: lithium battery, 24V / 30Ah
Maximum speed: 1.65m / s
External power switch: The power switch controls the power on and off of the vehicle system.
Drive mode: four-wheel independent drive, integrated drive and control servo motor, stable and reliable car operation; independent suspension, hydraulic shock absorption.
Obstacle crossing ability: The obstacle crossing height is 150mm.
Minimum turning radius: Four-wheel differential steering, can rotate 360 degrees in place, turning radius is zero.
Life time: Full battery life is not less than 2 hours.
Charging method: manual charging.
Maximum travel: 15KM
Communication serial port: integrated standard CAN, 485 and other multiple serial ports.
Protective characteristics: rain and dust.
Product Size: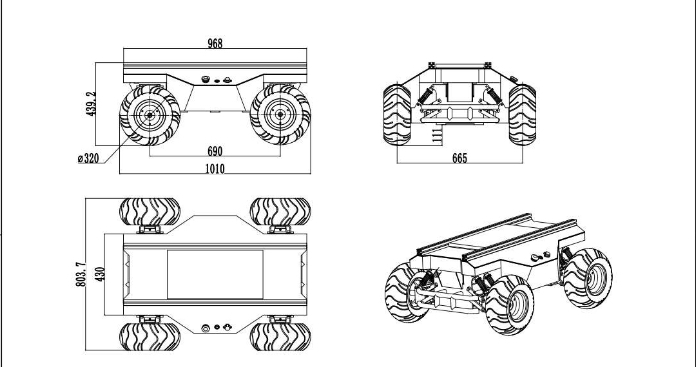 Communication interface of main control system
Multi-type communication interface:
Integrated 4-way motor & encoder interface, can be connected to 4-way encoder DC motor with speed closed-loop control at the same time;
Provide a USB 5V power supply port for power supply of Raspberry Pi, industrial computer, USB interface equipment, etc .;
Equipped with an ESP8266 WIFI module interface, which can perform WIFI connection and communication through the WIFI module;
Integrates one USB to serial port interface, and can communicate with Raspberry Pi, industrial computer and other equipment through serial port through the Micro USB interface of the main control board;
The IMU interface is compatible with the GY-85 attitude sensor. The IMU can be inserted into the corresponding interface of the main control board, or it can be connected to the IMU through the PH2.0 interface extension cable;
Integrated one CAN communication interface, two independent 485 communication interfaces and five serial ports. Can drive servo motors, brushless motors and other high-power drivers through CAN or 485 interfaces.